Practical projetcs of the department
Development of an innovative format for successful academic communication in the context of music, cultural education and participation. Students create explanatory videos on the theoretical background of sub-areas of music in cultural education. These will be made available to the public on the YouTube channel Meike's Music Orbit.
The seminar is a special teaching format, as it combines theoretical knowledge with a practical field on the basis of service learning. Musical projects, which have a different theme each lecture period and take into account different target groups across the entire lifespan, are designed, planned, carried out and continuously reflected on by the students throughout the process. The practical relevance is correspondingly high and allows the students to gain experience in different settings. The projects are oriented towards the needs of reality and require cooperation with different institutions, organisations, associations and educational institutions.
SoSe 2021: Rocko Rhythm and Steffi Still. An intergalactic musical journey for children.
WiSe 20/21: Music in Social Work. Designing and developing extracurricular music projects as cultural education offers across the entire lifespan.
SoSe 2020: Quiz on film music today. What will we remember in 30 years when we hear the melodies of today?
WiSe 19/20: Christmas in the school with the special focus on mental development. Plan, implement and reflect on a musical celebration for the whole school.
SoSe 2019: Inclusive band work as an offer of cultural education in the school context.
WiSe 18/19: Christmas in the Kindergarten. Early musical education - designing, implementing and reflecting on activities for children.
SoSe 2018: Martin Stadtfeld and Piano Plus. An inclusive summer concert.
WiSe 17/18: Guiding and being guided. Students and inclusive student bands alternating roles.
SoSe 2017: With instruments through the year. Complementing cultural activities with instruments.
WiSe 16/17: Meeting Point Music School. Bringing music-cultural offers for pupils of a school with a special focus on mental development onto the stage in cooperation with professional musicians.
SoSe 2016: Film music quiz for leisure time activities in groups of senior citizens or dementia work.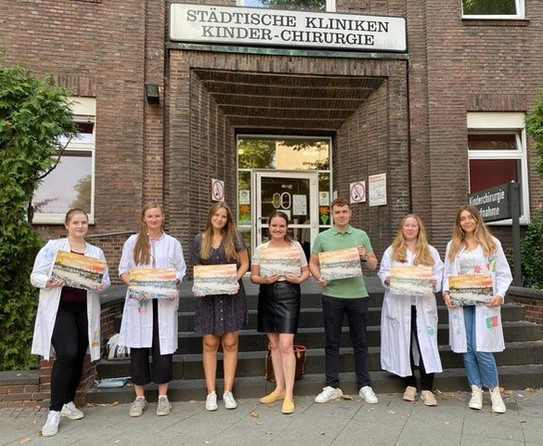 Thanks to the generous donation of €10,000 by the Leo Club Dortmund "Florian", in the future the young and older patients on the wards will also be able to draw and make music digitally, for example. We would like to take this opportunity to thank you once again for supporting the project through the Advent calendar campaign!